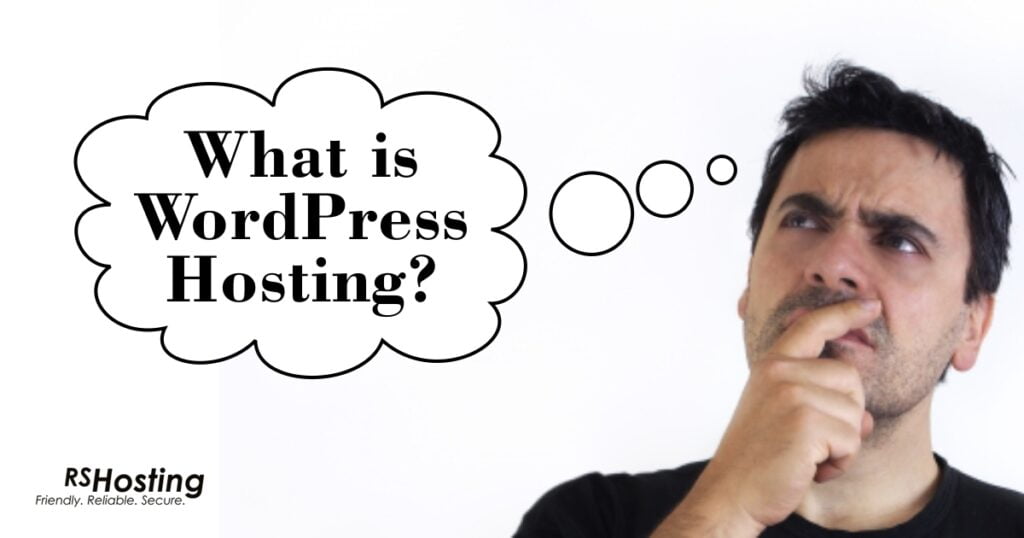 WordPress web hosting is the perfect choice for anyone who wants to run a website that uses this content management system. Depending on your needs, you can choose from different hosting plans and features, but there will be an optimized host designed solely around running WordPress sites no matter which option you go with.
In simple words, WordPress hosting is like other web hosts, but it is optimized to manage and run WordPress. You will find a lot of tools and features in WordPress hosting, and the features vary from service provider to service provider as well as on your specific hosting plan.
However, some common features that you will get with every WordPress web hosting are one-click-install to set and install WordPress and automatic security updates.
Another thing that you will get with almost all WordPress hosting is support from experienced staff. This means you seek their help to sort out any WordPress-related technical issues right from the experts.
Do I need any WordPress hosting to run or use WordPress?
In simple words, no. You don't need any WordPress hosting to use WordPress. Luckily, WordPress' minimum necessities for all users are not that complicated. To use and run a WordPress, you only need a web host with the latest PHP version 5.2.4 and MySQL's version 5.0.15 or even higher. This also means that almost all web hosts are suitable to manage WordPress.
However, you must know that not all WordPress web hosts are the same. You will find various features, tools for your WordPress site. For example, you can eat fresh apples thrice a day, which will meet your body's nourishment needs. But this doesn't mean that it's the most appropriate choice for a healthy life.
Thus, if you want to run a successful online business website on WordPress or your usage is beyond just "hosting a WordPress website," you will need reliable WordPress hosting to run WordPress more efficiently.
3 Significant Benefits of WordPress Hosting For Every Business
Regardless of the uses and WordPress hosting type you have chosen for your site, you will get some advantages. Below are some apparent reasons and benefits why WordPress hosting is the right choice as a web host:
Extremely Fast Speed
In this competitive world, your website loading speed is more important than ever. Google ranks sites by their page load time, and if yours takes too long to appear on the screen or doesn't fully render before users click away in frustration, then they will quickly find another site with better performance.
WordPress hosting is the most efficient way to speed up your personal or business website. Even if you go for shared WordPress hosting, you will see significant improvement in your site's speed and performance.
Besides, you can easily optimize and make necessary tweaks to improve your site's user experience by using WordPress on various servers.
You might think that you can get by with shared hosting, but it's not worth the risk. With managed WordPress web hosting, your website will be optimized and backed up by experts who know what they're doing.
Security should be your topmost priority whether you use WordPress hosting or not. When it comes to security protocols, you need to adopt a proactive approach to your site's security. You have to keep your website safe while maintaining a good user experience.
WordPress hosting is also beneficial when it comes to your website's security, and you can efficiently protect and guard your website against online cyber-attacks. When you are using a standard plan or advanced one, you can easily protect your site from broader attacks.
Furthermore, you can be proactive about your site's security and prevent attacks that precisely target WordPress when you have reliable WordPress hosting.
Remember that WordPress is the first choice of cybercriminals and hackers among all CMS; thus, you should be extremely vigilant about your site's security.
Luckily, almost all WordPress web hosts offer frequent security scanning and monitoring to keep your site protected.
However, managed WordPress hosting is more advanced. In case your online business or personal website gets hacked or the host sees a security breach, they will help you in dealing with the issue.
Running a WordPress site is an easy task, but the small updates can often get overlooked. These updates only take a couple of minutes to perform these simple checks; still, most site owners forget to update their sites timely and adequately.
Keeping your website up to date delivers the best user experience and prevents various threats.
Automatic updates are usually part of hosting plans, but it also depends on your specific hosting plan and WordPress web host.
These automatic updates also reinforce your WordPress website against any security issues. Lastly, updates also ensure that you are using the latest variant of the WordPress CMS, plugins, and themes.
WordPress Hosting in a NutShell
As mentioned above, WordPress hosting is just another type of web hosting, but it is optimized by experts for WordPress. The most used types of WordPress hosting are managed and shared web. However, there are some other types as well, but they are not that common.
Shared WordPress hosting is much cheaper than managed WordPress hosting. In simple words, we can say that shared WordPress hosting is the starter and comes with only basic features. In shared WordPress hosting, your website will be on a WordPress-optimized platform, and it will share it with the other sites.
The other form of WordPress hosting is managed WordPress hosting. This hosting platform includes advanced features, and overall it is more beneficial for your website. The most significant benefit of managed WordPress hosting is that a team of experts will look after your site and handle its optimization as per your exact needs and server environment.
Hopefully, now you understand what WordPress web hosting is and why you should consider getting one for your website. If you have any other queries and concerns, share them with us, and we will help you out!