WordPress powers 40% of the internet, making this generation's favorite way to create websites by far and away. All site owners (or lovers) need three critical things: the WordPress software, the site's contents, and a reliable host to provide adequate storage space.
Although WordPress offers web hosting from its WordPress.com site, this might not be the ideal option as you will have limited control over your website.
WordPress.Com Vs. WordPress.Org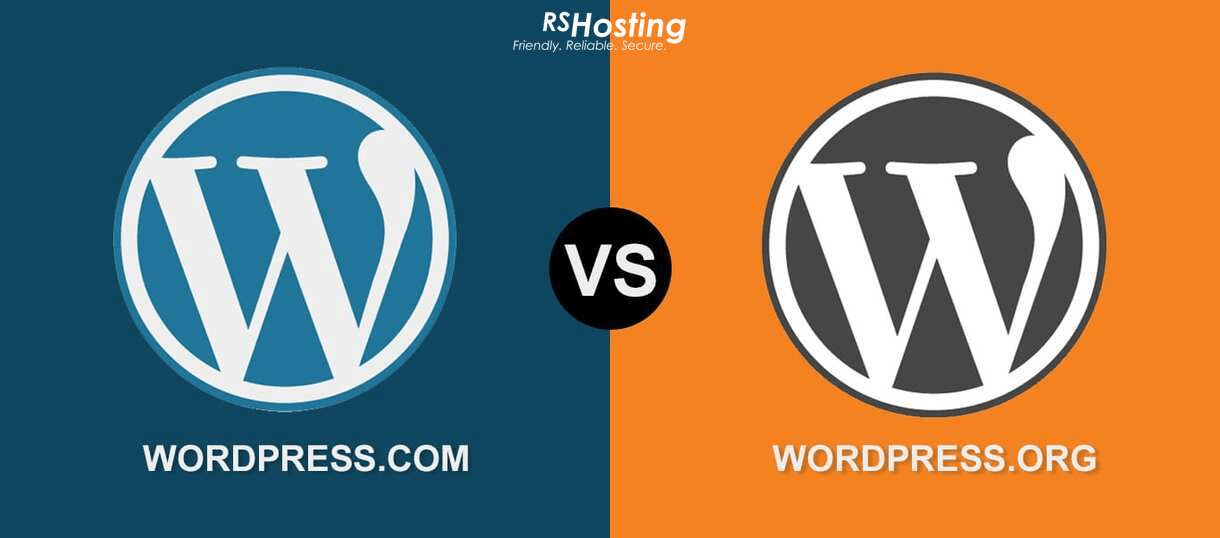 You might have noticed there is a WordPress.org and a WordPress.com. So do you know the difference between these platforms? Which one Is ideal for you? Let's briefly discuss both these platforms.
WordPress allows you to create and host your site from WordPress.com. The co-founder of WordPress, Matt Mullenweg, designed this as a profit-based service. Hence, if you want to host your site directly from the WordPress.com site, this is how.
On the other hand, WordPress.org is an open-source and entirely free platform that you can use to host your website. It is often referred to as a self-hosted WordPress platform because you will need your own web hosting and a specific domain name. So, when you hear the term "WordPress," it means this is about this open-source platform.
WordPress.com utilizes a custom version of this program hosted and provided by WordPress.org so that you can expect some limitations. However, if you want WordPress's full power, you will get it via personal WordPress hosting.
Does WordPress offer Hosting?
Yes, WordPress offers both free and paid to host on WordPress.com. Luckily, there are no upfront charges when you host your website on WordPress.com neither will you need a dedicated domain name for this purpose, WordPress will be installed and updated for your website.
However, even if you WordPress's paid plans, there will be some limitations. The tools, plugins, and themes you can access will be limited to those incorporated with WordPress.com.
---
Some limitations Of Free WordPress.Com Hosted Websites
You cannot use customized domain names. Instead, your site will be limited to a subdomain.
You cannot install themes and plugins, and the provided themes will not be customized using CSS.
The ads will be available to visitors on the front end of your website, and do you make money from them, nor can you list your own preferred ads.
You cannot remove WordPress branding in the footer.
You cannot use or connect all SEO and Analytics tools.
No backup features.
 

---

Disadvantages Of hosting websits on WordPress.Com

Your access will be limited to the tools, plugins, and themes integrated with WordPress.com, not the full options available from WordPress.org.

The cost is usually higher than web hosting.

---

WordPress Cost

Currently, WordPress.com offers four leading paid hosting ranging from $50 to $540 annually.

To host your site on WordPress.com, you will need to spend at least the $50 per annum hosting plan so you can use a customized domain name and remove the visible ads from your website. You can easily register your website's domain name through any company you want. However, if you want, you can also register a domain name from WordPress.com when you sign up for your account.

The next available hosting tier is Premium, for $96 annually. It provides you daily Backups, Google Analytics, allows you to add custom CSS, and displays your preferred ads to monetize your website. The $300 annual Business plan allows you to use supported themes or plugins. You can also remove the WordPress footer link and connect SEO tools in this business plan.

However, if you want to create an online store, you must buy the $540 annual eCommerce hosting plan. WordPress also offers VIP plans for enterprise-level websites; however, they will cost you around $20,000 for one year.

---

Themes & Plugins

You will find around more than 100 free themes to use, and around 80 themes are available for purchase. All of the available themes were explicitly designed to use with WordPress.com and are not the same that you will see on self-hosted WordPress websites. Keep in mind that we cannot customize these themes with CSS unless you use WordPress's Premium plan.

While core WordPress has everything, you will need to build your website and run it, but most users need additional features only delivered by plugins. If you are using a Business plan or higher, you can easily install and use plugins; otherwise, your functionality will be limited to only the features provided by WordPress.com.

However, some basic jetpack features available on WordPress.com sites also include the ability to use contact forms, polls, and ratings. It also offers a log of website activity, including when posts are published or customized and even when a new theme is enabled.
Should I Host With WordPress?
If the limitations mentioned above do not bother you and you feel that you can achieve your desired results, hosting your website with WordPress.com might work for you. However, most WordPress websites are not hosted on WordPress. Instead, these are hosted on other platforms.
Advantages Of Self-Hosted WordPress
The main benefit of using WordPress.org is that you can access everything WordPress offers.
You can earn from the website and keep its profits.
You can use and install any theme on your site or custom-coded.
Use over 4,000 free themes.
Add custom CSS or develop child themes for advanced customization.
You can install any plugin on your website, whether it is free, paid, or customized.
Use over 55,000 free plugins.
You can use various SEO and Analytics tools.
You can build a membership website or even an online store
---
Cons Of Self-Hosted WordPress
Below are some things that you need to know before using any self-hosted WordPress platform.
Updates will be manual; hence you should be comfortable updating your plugins and WordPress itself.
There are some upfront costs needed for web hosting and domain name registration.
Core WordPress is free of cost. The costs come in the form of domain name registration and web hosting.
 

---
RS Hosting: the best alternative to WP Hosting
If you are still looking for the best alternative to WP hosting, we advise you to consider RS Hosting. Not as popular as other industry giants, but RS Hosting offers a complete line of hosting solutions such as shared hosting, managed WordPress hosting, reseller hosting, e-commerce hosting, managed cloud servers, and dedicated servers. Besides, they incorporate these features in their hosting plans:
One-click app installer for 400+ apps
User-friendly WHM reseller control panel
Free website builder
DDoS protected servers
Free Let's Encrypt SSL certificates
CloudLinux operating system
LiteSpeed web server with LSCache
Choice of the U.K. or U.S. data center
Free Enom domain reseller account
Free CDN Cloudflare compatible web hosting

Other than these handy features, a team of experts will be there for you 24/7 to assist you when needed. You will love the video tutorials and videos on their website.

Lastly, you also choose the data center's location to host your website. Needless to mention that RS Hosting also offers free offsite data backups on a daily and weekly basis with multiple data restoration points.