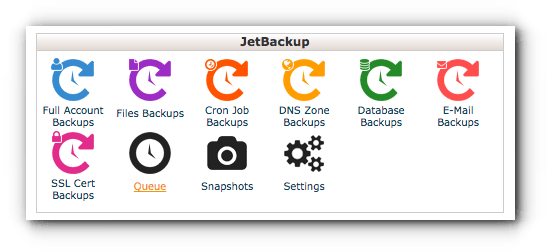 JetBackup Backup Solution – It's Better! It's Faster! It's Cheaper!

RSHosting offers the best backup solution to backup your important data, offsite with full data restore feature. Our managed backups are powered with JetBackup Backup solutions offering a wide range of features such as:
Incremental Remote Backups:
"Point-in-time incremental backups". We harness the power of hardlinks to use less space while backing up accounts. After your first full backup future backups will only take up space from changed files.
Multiple Remote Destinations:
Schedule as many backup jobs as you want. We also have multiple supported backup destinations! Local backups, Remote SSH, Remote FTP, Amazon S3, and Dropbox!
Self Restores:
Self restore GUI for cPanel and WHM users! Full account restore, singe file restore, download files/backups, restore emails, databases, cron jobs, SSL Certificates and more !
RSHosting has made significant investment to offer the revolutionary backup technology, powered with JetBackup Solution free of charge for Shared Hosting & Reseller Hosting Clients.
VPS Hosting, Cloud Hosting and Dedicated Server Customers can buy, our Managed Backup Solution at nominal price.