Below article will explain you, how to register domain name for your website and order web hosting services!
Web Hosting is creating your online presence on internet and establishing your own identity with the help of a website. A website would be anything that you can access in a browser such as Internet Explorer, Chrome, Firefox, Opera etc.
To create your own website, you will need two things:
1. Domain name -> A domain name is an address that you usually put in browser, such as rshosting.com or rshosting.net etc. These can be registered from a domain registrar for a minimum period of 1 year. You can register .com domain for as low as $11.99 per year. RShosting also offers several other TLD domain names such as .net, .org, .co.uk, .info etc
2. Website Space -> Once you have a domain name, you will need disk storage space on server, to host your files. You will need to upload your files using FTP or inbuilt website builder to your web space. Once you have uploaded files, and have configured the nameservers for your domain to resolve to our servers, you will be able to access your domain name in browser, similar to https://www.rshosting.com. At RShosting, we offer fast web hosting powered on Cloud SSD servers, from as low as £1.66 per month in UK datacenter, or $1.66 per month in USA datacenter hosted servers.
If you are not technically aware about building your website, nothing to worry. All you need to do is, first order a domain name and a suitable web hosting package (available web hosting plans https://www.rshosting.com/web-hosting/ ). Usually your order is processed instantly (if it clears and qualifies our fraud-check mechanism). You will then receive login details to your control panel.
---
How to order web hosting services?
To order web hosting, please visit https://www.rshosting.com/web-hosting/
1. Select your preferred datacenter location. It is recommended to choose the datacenter location where you are targetting your customers. This will help you SEO benefit and faster website loading times. We offer a choice of UK and USA datacenters.
---
2. Choose the appropriate web hosting plan for your website. For eg, if you wish to host 1 website, then you can start with Turbo Cloud Starter Plan. If you wish to host upto 5 websites, you can signup for Turbo Cloud Intermediate plan.
To host unlimited domain websites, you can select our Turbo Cloud Expert plan.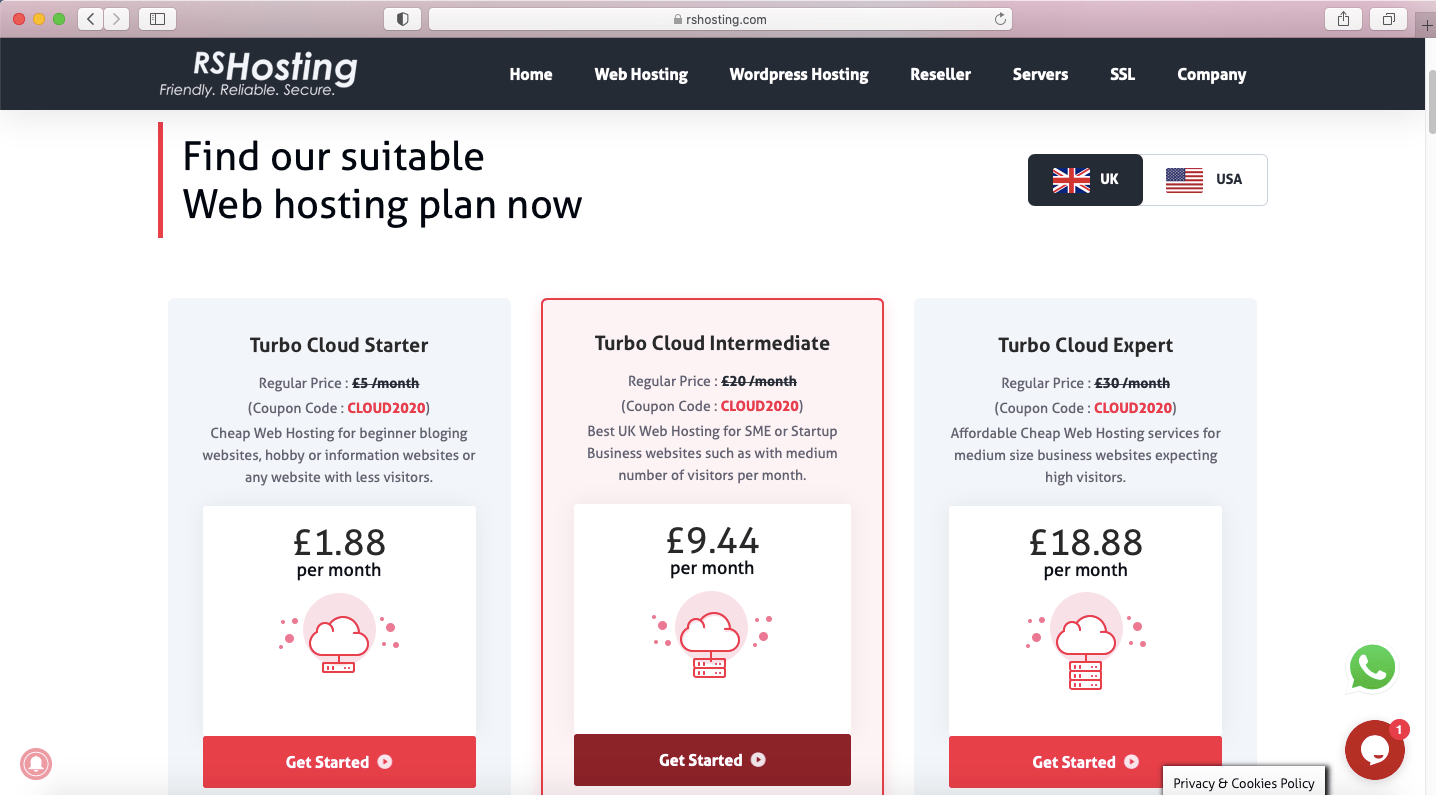 ---
3. Once you have finalised your desired hosting plan, please click on "Get Started" button.
You will see three options for domain names on next screen as below:
How to register domain name?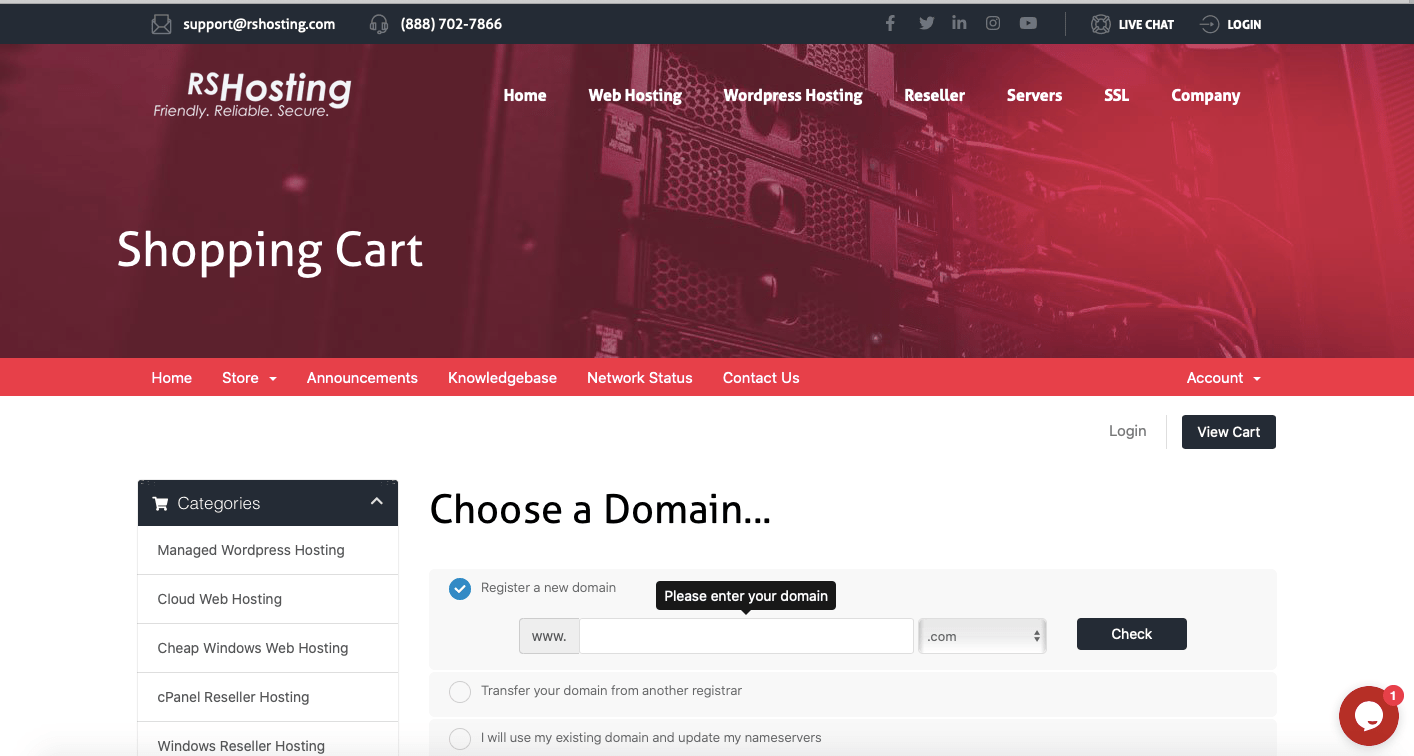 First option allows you to register a new domain of your choice
Second option will allow you to "transfer" your domain name registration authority over to us. Please note, this is not your website data transfer. The second option allows you to assign RSHosting as your new domain registrar where you can renew your domain registration in future and also manage its nameservers.
Third option allows you to keep your domain with your existing domain registrar and simply update its nameservers to our servers. You will receive pair of nameserver information in your welcome email, once your order is processed with us.
---
4. After selecting your desired option, click next to proceed to next order wizard. It will allow you to choose the preferred billing cycle for your web hosting plans.
It is highly recommended to signup with 3 year billing cycle, as it comes with maximum discounted rate.
---
5.Select your preferred Backup option and other addons as per your choice.
---
6. Final screen will look similar to below image, where any discount / coupon code as per ongoing offer will be applied. If you click on "Checkout" next screen will ask you to enter your details and select your mode of payment.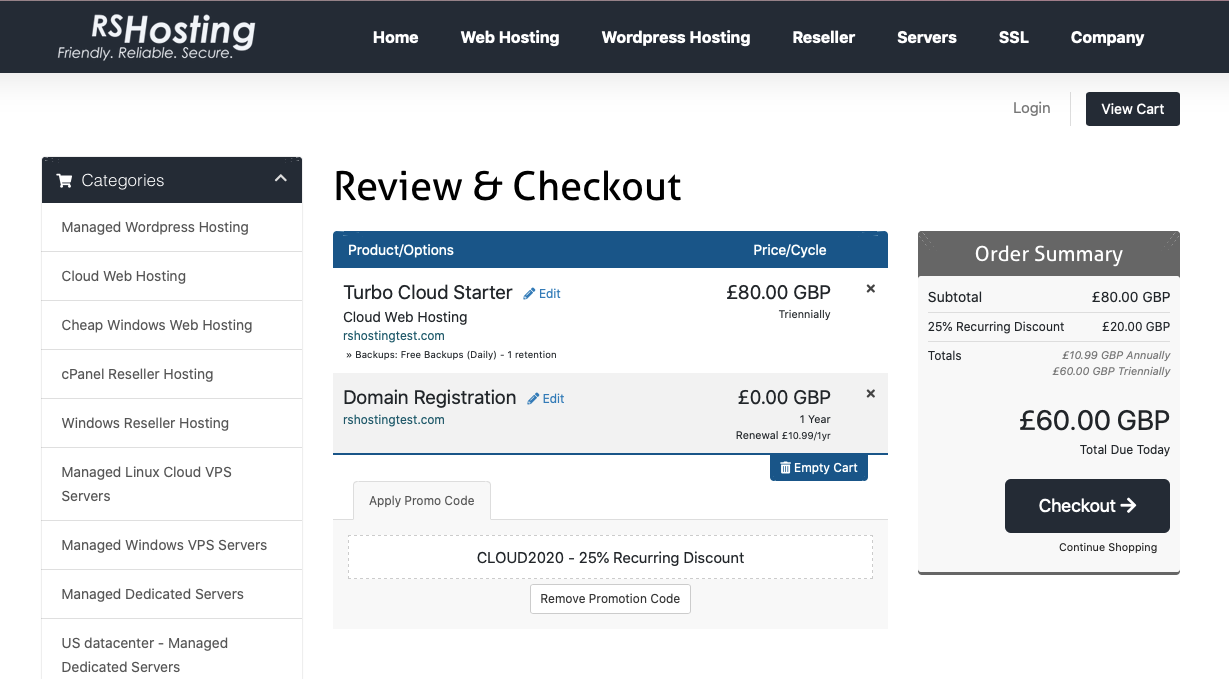 Thats it!. Voila .. your are all set to start with your new website. Your order will go through our automated fraud screening check, and you will receive welcome email with your login details, once your order is processed.
At any stage, if you need any help or have any questions, please do not hesitate to initiate a live chat from our website or email us at sales [@] rshosting.com