Build Trust, Credibility And Loyalty,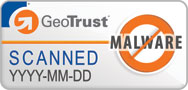 Today 80% of consumers want to be sure their online experiences are safe, making it critical to protect your site from malware. Malware on your site can also get you blacklisted in search engines, impacting your business and website traffic. GeoTrust Website Anti-Malware Scan checks your pages daily for malicious code and malware on your website. You receive instant, detailed reports when malware is found so you can clean up fast.
Existing UK customers who have their account with us in UK datacenters, need to signup as a new customer to our US billing system, in order GeoTrust Anti-Malware. You can signup as new customer by simply trying to order GeoTrust Anti-Malware as new signup.
Close
Anti-Malware Scan
Automatically scan up to 5 web pages daily with immediate malware alerts, for as low as $ 49 /year
Anti-Malware Scan with Site Seal
Increase conversions with the GeoTrust seal on your site and get daily scans for up to 50 pages, for as low as $99 / year.