Best WordPress Hosting Company
Which hosting company is the best choice for my WordPress Website?
Or
Which is the Best WordPress Hosting company? ….
Is a question that bothers a lot of users, who have their websites developed and designed in WordPress..!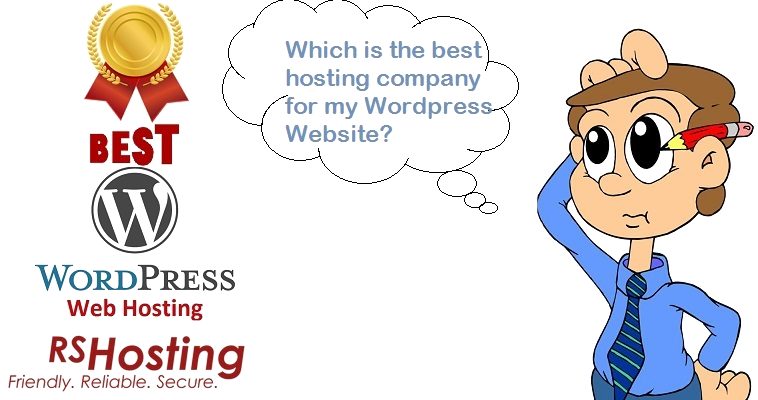 Choice of web hosting company that will be best match for your wordpress website varies from person to person, each one having their own set of requirements (in terms of budget, server resources etc) and personal experiences in terms of service and support with several web hosting companies.
Ideally from layman's point of view, a best wordpress web hosting company will meet few or all of below requirements:
Reliable WordPress hosting: A web hosting company that offers the most reliable web hosting service in terms of security, server uptime, fast wordpress website browsing speed etc will be an important criteria to term it as the best wordpress hosting company. RSHosting is one such web hosting company that offers the most reliable wordpress hosting, hosted on superfast SSD servers. We at RSHosting offer managed wordpress hosting, which keep your wordpress websites, secure from threats and an incredible "guaranteed" server uptime of 99.9%.
Affordable WordPress Hosting: Managed wordpress hosting at the most affordable or budget prices is a dream for every web designer. Starting from £3.75 GBP per month on UK hosted servers or $3.75 USD per month on USA hosted servers, you can host unlimited wordpress websites, fully secured and protected on superfast SSD drives, for incredibly fast website browsing speed.
Datacenter Choice for WordPress: Imagine you having a lot of your website visitors originating from Europe.! Hosting your wordpress website on a UK hosted server in such a case will not only give you SEO benefit for your website, but also offer low latency for your website visitors, as compared to your website hosted on USA hosted server. At RSHosting, we offer choice of UK or USA servers, so that you may choose the server location best suitable from your visitors point of view.
Automated WordPress Installation: You would love if you could install your wordpress and get started in less than 5 minutes, isn't it? That's exactly what we offer at RSHosting.com. All our WordPress Specialized web hosting plans come with built in auto-installers for wordpress, powered by Softaculous. You can install WordPress on your website in just a few clicks and have your wordpress website running in less than 5 minutes.
Optimized servers: A healthy server offering the best performance output for your wordpress website is something that everyone desire's. At RShosting, we have the most optimized and up2date PHP and Mysql / MariaDB configuration which helps in running your wordpress website superfast in browser, without any lagging issues at server backend.
Optimized Websites: Caching plays an important role in accelerating wordpress website performance. At RShosting, we have our servers super-charged with Varnish, Memcached, PHP OPcache which offers accelerated super-fast website browsing performance for your wordpress websites.
Secure WordPress Web Hosting: No one would like to have their wordpress websites compromised and vulnerable to attacks. At RShosting, our wordpress web hosting plans come pre-installed with a set of few secure and recommended plugins, which increases the security of your wordpress websites. Additionally, our servers are configured with the most advanced firewall and security rules, which are capable of protecting your wordpress installation from hacking and brute-force attacking threats.
Compatibility with Cloudflare and external applications: RShosting servers and wordpress web hosting plans are fully compatible with external applications such as Cloudflare. You can add an additional layer of security by signing to free Cloudflare services, which will protect your WordPress websites from attacks.
Seamless Upgrade Policy: What happens if your busy wordpress website needs more resources and is attracting more visitors and traffic? Instead of taking risk of searching upgrade options else where with some other web hosting company, you at RShosting company will get discounted options to upgrade your WordPress website to a fully managed VPS server or a Cloud server, capable to meet your wordpress instance server resource requirements. Our 24/7 WordPress specialized support will help you with free migration from your shared wordpress hosting to vps wordpress hosting or cloud wordpress hosting.
24/7 WordPress Specialized Support: With managed wordpress web hosting, RSHosting offers the best support which is available 24/7, well versed and experienced with WordPress issues and troubleshooting.
For more information on our managed wordpress hosting plans, please visit https://www.rshosting.com/wordpress-hosting/