Best UK Joomla Web Hosting
Which is the best UK Joomla web hosting company? is a widely searched question over the internet for people seeking reliable Joomla web hosting provider for their website.
When searching for UK Joomla hosting for any website, a person should first consider researching on a few things such as actual geographical server location, reliability of web hosting company and servers, their server uptime, security of servers, ease of installing and managing Joomla and its plugins or themes, technical support for joomla etc..
Cheap Joomla Web Hosting starting from £1.25 per month at RSHosting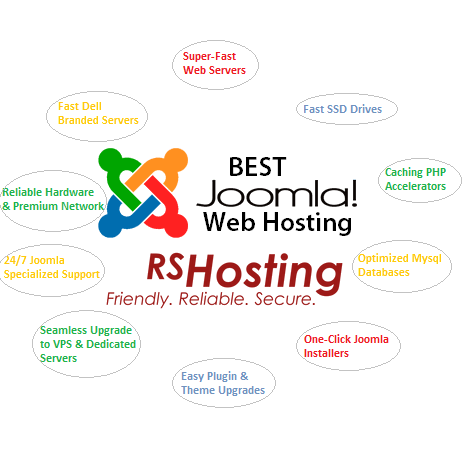 Reliable Hardware & Premium Network: Emerged as the best UK Joomla web hosting company, RShosting offers the best Joomla hosting for its customers on servers physically located in state-of-art UK and USA datacenters. We only choose one of the highest grade hardware components and lightning fast premium network which offers blazing fast Joomla website browsing experience
High Configuration Dell Branded Servers: RShosting never compromise on server quality, and uses only premium grade, high end Dell branded servers which delivers the most reliable web hosting environment for your Joomla websites
Super-Fast Web-servers: Host your websites with RSHosting on super-fast servers configured with optimized web-servers such as Apache+Nginx, which delivers excellent performance for your Joomla website hosting. Our servers are configured with up2date and optimized web-server modules offering the optimum performance and security for your Joomla website.
Fast SSD Drives: At RShosting, your Joomla websites are hosted on servers configured with high speed SSD drives, that offer blazing fast Joomla web hosting for your website.
Caching PHP Accelerators: RShosting has been a leader in offering managed Joomla hosting and with years of experience, we offer the best web hosting environment for Joomla websites. Our servers are configured with PHP caching accelerators, that offer super-fast browsing for your Joomla websites.
Optimized Mysql Database servers: We offer the latest version of Optimized Mysql / Mariadb mysql databases, which help your Joomla websites run with lightning fast database queries.
One-Click Joomla installers: At RShosting, we offer one-click Joomla installers (powered by Softaculous) that help you install and configure Joomla on your website in less than 5 minutes. Login to your control panel, install joomla and thats it.. You are ready to go to have your Joomla website ready..!
Easy Plugin and Theme upgrades: Our control panel notifies you about any outdated Joomla plugin or theme and helps you upgrade them to latest version with just a few clicks. You can also configure regular scheduled backups of your Joomla website prior to any upgrade.
Seamless upgrade to VPS or Dedicated server: If your Joomla website needs more resources such as CPU, RAM or Disk space, you can seamlessly upgrade to high end web hosting such as Joomla optimized VPS of Joomla specialized Dedicated servers. Our team will help you migrate data free of cost and will help you at every step of migration, making your experience a trouble-free one.
24/7 Joomla Specialized Support: RSHosting offers 24/7 support having a huge experience in dealing with Joomla related technical issues. Our Joomla specialized professional support should be able to help you via Live chat or Ticket (Email) support, for any queries or issues that you come across with your Joomla websites.
For more information please visit https://www.rshosting.com/joomla-hosting/
UK Joomla Hosting

USA Joomla Hosting