Reach Customers On The Move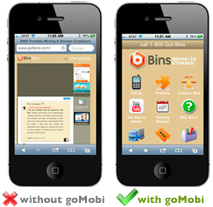 goMobi makes it easy to appeal to the majority of users now browsing the Web on mobile devices like phones and tablets. Squeeze everything from your full site into a mobile version optimized for thousands of devices. Include extras like maps, online deal coupons, and the ability to call you with one touch
goMobi is a turnkey solution for both new and existing websites. It provides an easy-to-use, flexible, and programming free mobile website. goMobi's simple setup wizard creates great looking mobile sites that work in hundreds of mobile devices in just five minutes.
Did you know that for every computer there are 4 mobile phones? If you don't have a mobile presence, you are missing out on valuable traffic. Whether you have a new or existing site, goMobi takes only a few minutes to setup and allows you to create a tailored mobile experience that will work on almost any phone.
goMobi Mobile Website Features :
Find us : Show your customers where you are located, using Google maps.
Forms : Create custom forms to suit your business needs.
Video : Automatically converts and optimizes your video for any device.
Twitter : Allow customers to share with Twitter.
Products : Add your products and a shopping cart so customers can purchase from the site.
Full Web Site : Add a link from your mobile website to your full website.
Reviews : Let customers read reviews that have been added to Yelp and Foursquare.
Image Gallery : Publish high quality images to your mobile website.
Contact us to get a quote for having your mobile website created with goMobi.